Seriously healthy Salmon Burgers
07th Jul 2016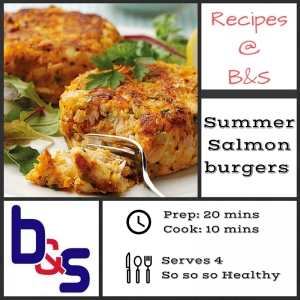 Simple, seriously healthy Salmon burgers with an oriental spin!
Ingredients
4 boneless, skinless salmon fillet, about 550g in total, cut into chunks
2 tbsp Thai red curry paste
thumb-size piece fresh root ginger, grated
1 tsp soy sauce
1 bunch coriander, half chopped, half leaves picked
1 tsp vegetable oil
Lemon wedges, to serve
You could also add a salad:
2 carrots
half large or 1 small cucumber
2 tbsp white wine vinegar
1 tsp golden caster sugar
Method
1.) Tip the salmon into a food processor with the paste, ginger, soy and chopped coriander. Pulse until roughly minced. Tip out the mix and shape into 4 burgers. Heat the oil in a non-stick frying pan, then fry the burgers for 4-5 mins on each side, turning until crisp and cooked through.
2.) Meanwhile, use a swivel peeler to peel strips of carrot and cucumber into a bowl. Toss with the vinegar and sugar until the sugar has dissolved, then toss through the coriander leaves. Divide the salad between 4 plates. Serve with the burgers and plain white or brown rice.
Bisset & Steedman Ltd
News Archive
Latest News
Seriously healthy Salmon Burgers
Simple, seriously healthy Salmon burgers with an oriental...
...
Read more
How to clean your Washing Machine?
Do you know how to clean your washing machine? You...
...
Read more
Mmmmmm - Traditional Bread and Butter Pudding
Read more

Product Spotlight - Samsung AddWash

At B&S we like simplicity and sometimes the simple...

... Read more

Product Review - Retro Smeg Blender

Fancy yourself as a cool kid? Missing the 60's?... Read more

Product Review - AEG SteamBake oven - The perfect tool for a keen home baker?

Read more